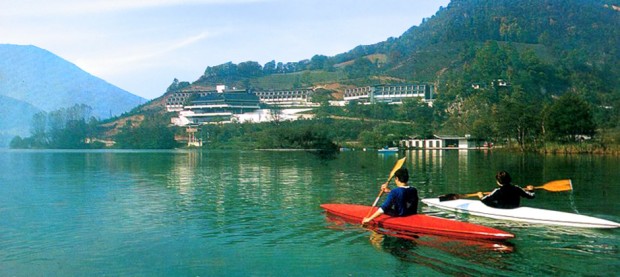 Rowing, kayaking, canoeing. Several water sports are present on Pliva Lake: kayaking, canoeing and rowing. These sports have become traditional due to the quality of the lake water, that is, the high density of the water, the fact that enables sportsmen to prepare for competitions, championships, the Olympics etc.
Rafting, kayaking. The River Vrbas offers different opportunities for the development of sport, recreation and tourism. There are other rivers suitable for rafting but Vrbas has an advantage – the average annual temperature of its water is 10.6o C (average temperature in summer is about 17o C). Besides rafting, it enables swimming, diving from rocks and free descent. In co-operation with the Kanjon (canyon) Club we can offer you to experience the River Vrbas and its environment you will never forget.
Mountain climbing, rock climbing. Mountain climbing in the area around Jajce will give you unforgettable memories of the countryside through which the hiking trails lead you. What will impress you are the unique environmental systems of mountains, canyons, caves, springs, forest tracts, as well as archeological sites, mediaeval towns, and gazebos offering the magnificent view of the landscape. Climbers' chalets, picnic areas and accommodation in guestrooms with host families in villages will enable to relax in natural environment and to try specialties of the local cuisine.
Mountain hiking. The terrain configuration and the fascinating scenery of this area give you a unique chance to enjoy the sights and to feel adrenaline boosting while you are testing your biking abilities.
Extreme canyoning. The River Ugar offers amazing opportunities for canyoning. Combination of rock climbing, diving off the cliff face, and swimming will lead you to to the height of thrill and enjoyment. Besides on the Ugar River, canyoning is also organized on rivers .
Angling and fishing. The Pliva River, the Vrbas River and Pliva Lakes are jewels of the Central Bosnian Canton and, we believe, of the whole of the Balkans as well. Come and see for yourselves the beauty of these waters. Nineteen species of fish live in the Pliva and the number of species in the Vrbas is twenty-two.
Skiing. Ski centre Poljane is located on the picturesque slopes of the mountain of Ranče. The tourist season in winter, depending on the quantity of snow, starts on December 15 and ends on April 15.
Tennis. The campsite encompasses two modern, well-maintained tennis courts.